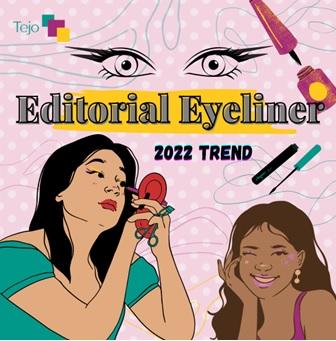 The HBO show Euphoria has left its whole audience in awe with the many innovative makeup looks exhibited in the show including editorial eyeliner. The show featured a variety of different characters who express their emotions and personality through their makeup, along with other things. This creativity is expressed through different types of eye makeup that the cast put on. It is safe to say that this show has introduced a whole new side to cosmetics.
Since the release of the show in 2019, people have taken upon themselves to recreate the creative looks featured on the show to look like the characters in Euphoria. The editorial eyeliners displayed in the show is a mix of edgy, bold, and charming. Weather it's the use of popping colors to do eyeshadows, colored eyeliner looks, or rhinestone inspired eye makeup, Euphoria is the ultimate trendsetter for these unique eye cosmetics, and we are here for it! Surely, this Reignition of your love affair with makeup has left Gen Z fearless and unapologetic in how they express themselves.
However, along with every iconic trend inspiring teenager of today, follows significant benefits for the cosmetic industry. It is no surprise that the legacy of eye makeup in this show has continued in season 2, giving us Lo and behold, even more alluring and seductive looks. Be it YouTube, TikTok or any other platform, content creators and children are carrying this trend forward by constantly recreating these looks which has significantly benefited the cosmetic industry as they have been restocking on popping eye makeup, eyeliners, mascara and much more. It is not only the children however who have been recreating looks from euphoria, on the New York Fashion Week Fall 2022 runways, designers suited up their models in a full glam inspired by Euphoria when showing off their latest collections. The models were covered in shimmery eyeshadow, long stiletto nails, dramatic winged eyeliner, rhinestone face makeup and Y2K-inspired hairstyles. https://www.instyle.com/beauty/euphoria-makeup-nyfw-fall-2022
Therefore, it is evident that the Euphoria cast has turned into a fashion icon for the whole world. Not only the high-end cosmetic industries such as MAC, Loreal, Sephora, or Fenty beauty are on the rise, but even smaller brands have been working on releasing the best of eye makeup tools for their customers. Indeed, this has given an intense rise to sales of eye makeup products and the way these brands advertise their products, showing models with blue and sequined eyes with a heavy liner and popping colorful exaggerated lashes, how would the makeup not attract a wide variety of audience? Displaying graphic designed eyeliners is yet another famous way of representing the quality of their products and the ability of it to be able to form such distinct looks. There is no doubt that Euphoria has shaped fashion and beauty in the last almost three years, and with the new season, it is bound to keep pushing the limit.